9 Tips for Planning Great Workplace Amenities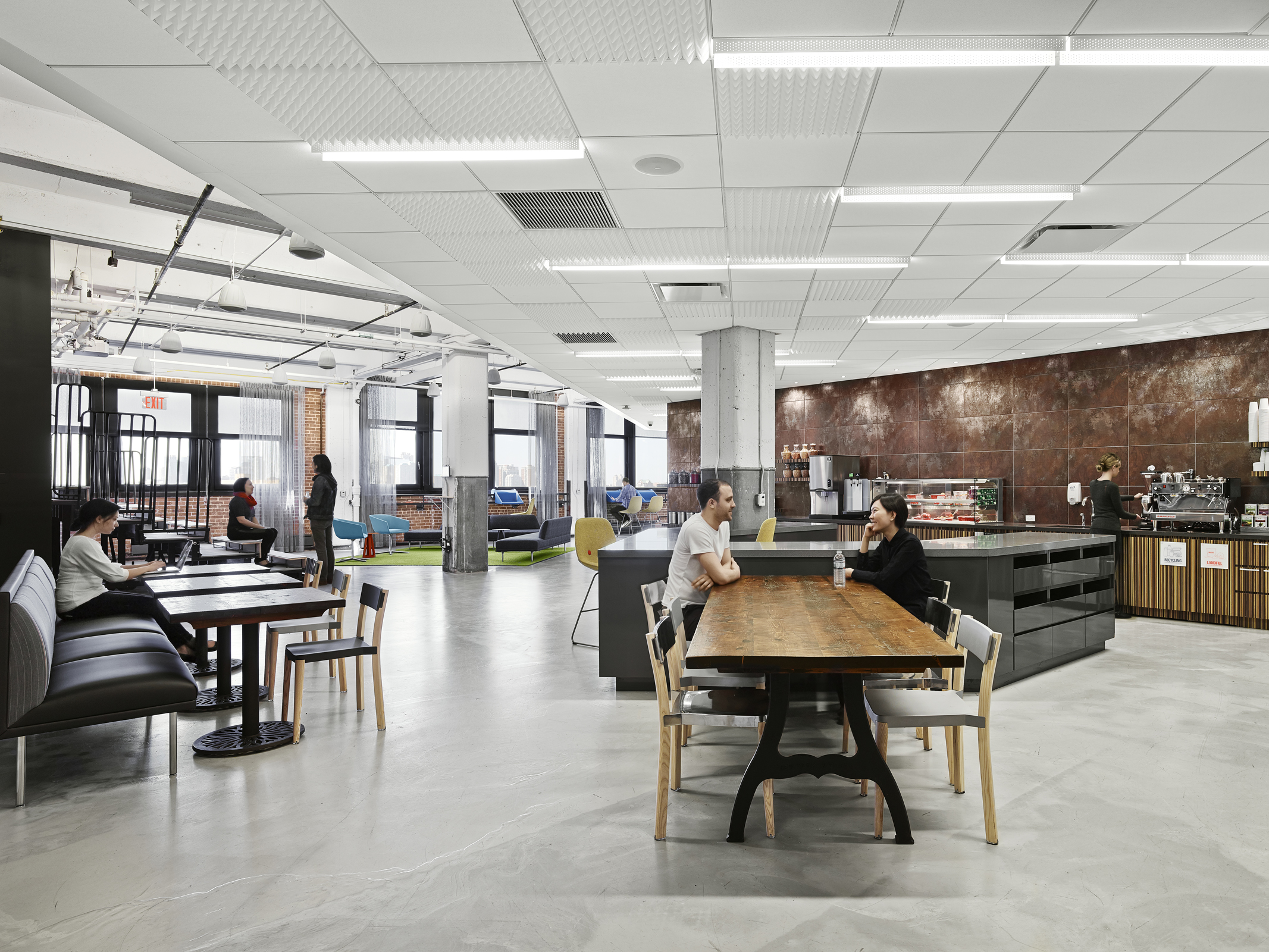 As the battle rages over the merits (and demerits) of the open office, some of our savviest partners are focusing their energy on the spaces beyond workstations, offices, and conference rooms—what can be called "the third places." To our minds, to refer to these spaces as amenities is a misnomer. Cafés and food service areas, training suites, and fitness centers are in reality necessities for the 21st century office, a critical part of keeping your teams happy, healthy, and engaged.
Planning for amenity spaces can result in a lot of furrowed brows. These areas can be expensive and require operational considerations. There is no guarantee that the space will be used as your real estate or facility team desires. However, when planned thoughtfully, an amenity space can set your workplace apart and provide valuable space for your team to connect in new ways.
Remember, this isn't about more space. It's about rebalancing space. Amenity spaces typically come about through an overall shift from "me" to "we" space. Smarter use of individual spaces makes room for those unique places that draw in your teams.
The competitive edge. For younger workers entering the workplace, expectations differ from those of their more tenured colleagues. Creating spaces for recharging, refocusing, or building camaraderie among teams can help keep people engaged in their work.
A holistic support system for your team. We spend over a third of our waking hours at work. Organizations have a duty to think about how they can create a more holistic environment that supports not only work, but also the part of this equation that involves life. Promoting fitness programs, gaming and socialization, or prayer and meditation can help employees find balance within hectic schedules.
The benefits of a break. A growing body of research shows that taking breaks can actually improve productivity. That 20-minute foosball match can help power your teams through the day, so, give them the space to do it
Make it easy. Amenity spaces—and, specifically, food and wellness spaces—should be integrated, accessible, and central to help foster interaction among staff and to drive use. Quick access to fresh (and, ideally, free) food can go a long way toward creating a healthy workforce.
Be smart about multi-purpose areas. Space is expensive. It's important to be thoughtful about how we use it. If your new café doubles as a space for town hall meetings, that's great! Doubling-up infrequently used space into one room can also help shrink your footprint. But, a café that triples as a training room, eatery, and after-hours Zumba studio probably isn't doing a good job of supporting any one of those activities. Know where to draw the line for multi-purpose space.
Places don't run themselves. There's important human capital behind every one of these spaces. Group fitness spaces require an instructor. Cafés require a team to run them. Training rooms are reliant on a curriculum with instructors. Make sure you have the necessary resources in place to support your space before embarking on any big architectural moves.
Innovate anywhere. Amenity spaces are your engine for building a buzzing, idea-generating, innovation hub. Give your teams space and permission to work in new ways and make sure your amenity spaces are outfitted to support your people in their endeavors. Plug & Play displays, Wifi, and convenience power can turn your café into a vibrant, informal meeting zone.
Remember 10%. For high level planning purposes, 10% of your usable square footage should be devoted to spaces that create a more holistic work experience for your team. How that space is broken down into food, learning and development, and fitness will depend on your organization's unique culture and goals.
If you're up against budget restrictions, first and foremost, create a space that will bring your team together. Food is an excellent binding force, so cafés are a great place to start. Make it homey, provide infrastructure for work or for play, and, whenever possible, let inside the natural light. Small details can turn a modest space into a Grade A amenity.